President Biden will likely put aside decades of well-documented personal mistrust toward the Saudis to meet with Crown Prince Mohammed bin Salman next month in Riyadh. In explaining this sea change, most analysts focused on the Saudis' role in balancing global oil markets following Russia's invasion of Ukraine and the Kingdom's warming relations with Israel.
These factors do not tell the whole story, however. Capstone has been closely following the global energy crisis, US/China competition, the global hunt for precious critical mineral supply chains, and the domestic energy transition tug-of-war for our corporate and investor clients. We believe the president's willingness to visit Riyadh must be seen in the context of these developments.
Namely, in addition to combating rising oil prices, an underappreciated driver of the president's trip is to combat Chinese and Russian expansionism and diversify the global supply of critical minerals—an essential requirement for powering the green transition globally and decarbonizing the US economy.
In the president's mind, if bringing the Saudis into the US tent will lower fuel costs for middle-class Americans while also thwarting Chinese control of critical minerals and its expansionist foreign policy, the risks of rapprochement are worth it.
Share of Top Three Producing Countries in Production of Selected Minerals and Fossil Fuels, 2019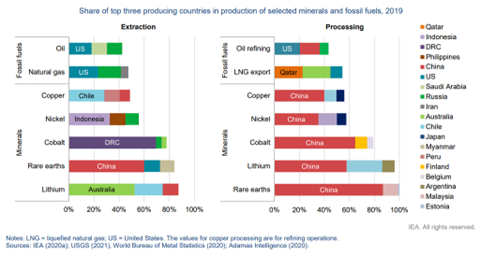 China challenges US influence in two ways. First, China directly controls the majority of relevant global processing capacity for key metals and minerals vital to manufacturing batteries, wind turbines, and other clean energy infrastructure, along with a significant component of the related extraction capacity. Diversifying the critical minerals supply chain has been a priority for the administration, highlighted by an executive order last March to use the Defense Production Act to strengthen US mining capacity. However, despite bipartisan consensus on near-shoring critical metal and mineral supply chains, the White House's ability to wrest near-term control from China is limited.
Developing the necessary US infrastructure and supply chains to reroute clean energy supply chains will require both time and capital investment, neither of which will materialize in the short term. It is also highly unlikely that the US, under any administration, will pay for sufficient domestic mining extraction, which leaves the US dependent on foreign countries to secure critical minerals. Meanwhile, through its Belt and Road Initiative and with the support of the Asian Infrastructure Investment Bank, China is building roads and bridges for impoverished countries, resulting in back-breaking debt obligations and, ultimately, Chinese control of these projects.
To protect cobalt and other mines from China's dominance and to wrest these countries from Chinese control, the US will need financial muscle, and the Saudis could provide critical financing for this purpose. First, the Saudis have investment capital to deploy against Chinese global infrastructure and help build alternative clean energy supply chains. The Saudi Public Investment Fund is a relatively nimble sovereign wealth fund that could supercharge any US infrastructure play. In the White House's view, the US will have far more leverage in places like Fiji if it has Gulf money behind infrastructure projects rather than meager US funding.
This approach is consistent with President Biden's Build Back Better World (B3W), which he announced last year at the G7 to enhance infrastructure investment for low- and middle-income countries to combat Chinese economic and military expansionism.
The Saudis could be a key piece in actualizing the B3W, which explains, in part, why the president's special envoy for the B3W initiative, Amos Hochstein, has been co-leading negotiations with the Saudis.
Second, the Saudis strive to diversify their oil-based economy by leveraging domestic metal and mineral deposits, including copper, zinc, gold, and silver. This will require the Saudis investing billions in domestic mining capacity, which they have committed to do, and it could strengthen access to critical mineral supply chains outside China.
President Biden's visit also is an effort to counter Russian influence in the Middle East. Through the lens of Western observers, Russia is more isolated than ever since the Cold War. However, that is not the view in the Middle East, highlighted by Russia's continued role with the OPEC+ coalition. Russia also has kept up aggressive outreach to countries such as Saudi Arabia and the United Arab Emirates and retains influence in Turkey, Syria, and Libya through a combination of military intervention and arms sales. Russia's invasion of Ukraine has shaken but not eliminated its influence, and a visit from President Biden could accelerate Russia's isolation.
President Biden's overture doesn't come without risks. Human rights violators and countries with whom the US has challenging relationships could exploit the "great power competition" with China and Russia to secure US support. Experts point out that the White House should "avoid the rush to ply Arab security partners with greater military support simply because they threatened to turn to Russia or China."
However, there will likely be little political downside to President Biden's overture. Inflation and high gas prices are chief concerns for American voters today, and most members of Congress will likely support diplomacy to bring down gas prices.
Ironically, the president's visit reflects both a move toward fossil fuels and decarbonization. In the White House's view, the Saudi visit could lower pump prices via increased oil production and strengthen renewable supply chains. We believe displacing China as the dominant processor of minerals for clean energy will be a multi-decade undertaking, and the White House is betting that US–Saudi relations will be critical to achieve that.
At Capstone, our research teams will be paying close attention to Biden's trip as we continue to follow developments in global energy, critical mineral supply chain concerns, and broader US/China development for our corporate and investor clients.
---
ABOUT THE AUTHOR