September 11, 2023
By Ian Tang, Capstone Tech, Media, and Telecommunications Analyst
Congress is readying to kick off what has historically proven to be the most productive period of the first year in the two-year congressional session. Although GovTrack has found that "half of all legislation that will be enacted is enacted only in the final quarter of the session," Congress also typically blows through a flurry of legislative activity in the last part of its first year, the moment where we are now.
This fall, lawmakers have several daunting challenges, including resolving government funding to avoid a shutdown and the increasing desire of House Republicans to work through the potential launch of an impeachment inquiry. These two items will cannibalize floor time and potentially distract Washington from more sector-specific issues in the lead-up to next year's presidential election.
However, we believe several technology issues remain key priorities on the agenda for members on both sides of the aisle who want to run on legislative achievements. We expect momentum on topics as varied as the renewed risks for Big Tech, from broadening privacy protections for children to the growing competition between the US and China. And we believe conversations surrounding hot-button issues, such as artificial intelligence (AI), will set the fundamental groundwork for how lawmakers approach legislation next year or indicate areas where states may need to fill the regulatory gap when Congress has not acted.
Exhibit: Average Number of Bills Enacted Per Month in Typical Two-Year Congressional Session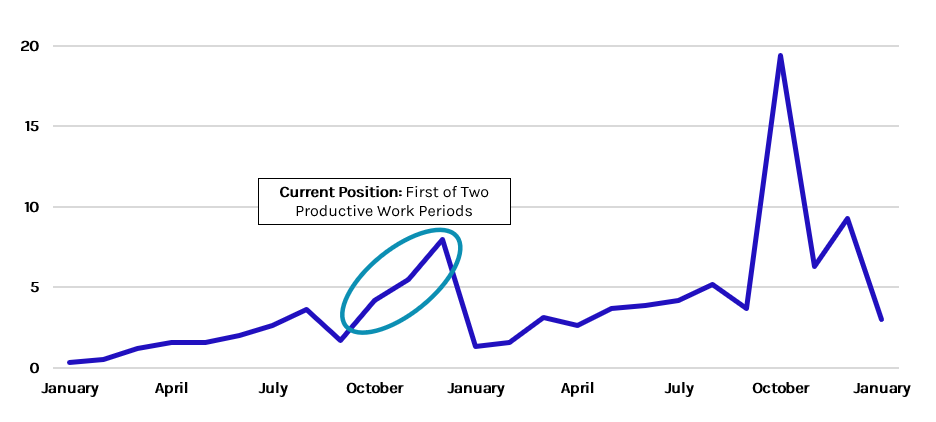 Source: GovTrack
Children's Privacy to Present Big Tech Risks
We believe children's privacy remains one of the most primed issues for movement—a notable risk for Big Tech and social media platforms—especially with an incremental extension of the Children's Online Privacy Protection Act (COPPA) to a broader population of minors through COPPA 2.0 (S.1418). Another bill, the Kids' Online Safety Act, also known as KOSA (S.1409), would have farther reaching implications on how platforms moderate content. The Senate Commerce Committee advanced both bills in late July. The primary obstacles come from the House, where conservatives hope to use the bills as leverage to pass a more comprehensive framework, and from free expression advocates. Comments by Sen. Marsh Blackburn (R-TN) earlier this week regarding the potential implications of the responsibilities KOSA puts on Big Tech platforms to remove speech that "indoctrinate[s] children" show how lawmakers could easily complicate the process or derail their efforts altogether. For that reason, they are even less likely to overcome long-standing disagreements in more expansive privacy legislation.
Expect More Action on the US-China Tech Cold War
Competition with China will also remain top-of-mind. Capstone's National Security team believes Congress will follow on the Biden administration's recent executive order on outbound investments, solidifying the intent of the US government but stopping far short of creating a "reverse Committee on Foreign Investment in the US (CFIUS)" that reviews every transaction (see "US Outbound Investment Screening Executive Order to Take Restrained Approach; but Longer Term Risks to US Investors Endure," March 10, 2023). The Senate has already adopted an amendment to add a version of that mechanism to the annual National Defense Authorization Act (NDAA).
Capstone believes that although most companies and investors seem to have come to terms with the change in the US-China relationship, we don't think there is a proper appreciation of the accelerating pace of deterioration in the relationship. As such, we think most companies and investors are severely underappreciating the potential implications, both near-term and long-term, that this deterioration may have on their investments, and this is an area we continue to pay close attention to.
Previewing Next Year's Fights: TikTok and Self-Driving Cars
Congress will be hard-pressed to find common ground for addressing other more thorny legislative priorities this session, but we believe the conversations around them will be instrumental. For example, bills to empower the US Department of Commerce to review information and communications technology (ICT) products and services or to outright block ByteDance's TikTok (as well as the number of other applications growing in popularity from Chinese-based companies) are likely to make an appearance again but not significantly move (see "TikTok: Increased Likelihood of Divestiture Enforcement Drives Interest in Legislation Posing Long-Term Implications for Foreign-Owned Apps," March 16, 2023). Rather, given the First Amendment implications, states (as well as courts as a result, as is occurring in Montana) and the Executive Branch with its CFIUS authorities will have greater leeway to act first.
Similarly, while supporters of legislation that would allow more self-driving vehicles on the road cite the need to ensure the US stays ahead of China in developing the technology, Congress does not appear close to advancing bills related to autonomous vehicles. However, we do not think these issues are going away anytime soon.
Antitrust and Section 230 Simmering, on Low Heat
Antitrust and Section 230 reform are other issues that will see some movement if House Energy & Commerce Committee members follow through on expectations that they will reintroduce bills like the Open App Markets Act. Apple's success in court and Google's recent proposed settlement with state attorneys general will fuel the perception again that existing law is not strong enough. Still, they are likely to remain in the wings without additional action, in part because of the underlying differences between chambers (with the House Republicans focused on their allegations that social media platforms have suppressed conservative speech) and parties that will find no path toward resolution.
Expect Noise About Artificial Intelligence, but Little Action
Finally, we expect legislators to defer action on several ambitious items related to emerging technologies, such as artificial intelligence. Although we believe that policymakers are completely unprepared for the AI future being ushered in by the release of ChatGPT-4, we do expect more regulatory noise to bubble up faster than we think most people appreciate.
Senate Majority Leader Chuck Schumer (D-NY) is paving the way for a series of listening sessions, the AI Insight Forums, to help Congress understand key issues. However, short of the bill that would establish a blue-ribbon commission as contemplated in the National AI Commission Act (H.R. 4223), coming to sufficient consensus on how to regulate these systems will be difficult (see "AI Tracker: States Laws Pose Emerging Risk of Higher Training Data Costs; Diffuse Legislative Momentum Growing; Big Tech Deals to Limit Liabilities," June 23, 2023).
Slow Crypto Movement, with More Crypto Consumer Protection
The House's recent work on bills relating to cryptocurrency is also unlikely to yield a final product that both chambers approve this year (see "Crypto Tracker: Coinbase Sees $273M Revenue Opportunity as CA, NJ Now Likely to Pass Licensing Bill; Federal Legislation Remains Unlikely," August 30, 2023), but we expect lawmakers to continue hammering away with consumer protection concerns driving their desire to enact legislation.
Although most statehouses have adjourned for the year, states could also come into play on other topics that Congress passes up. California could still make some moves in the interim as well. Before the legislative session ends on September 14th, members are still debating several bills we are watching that could intervene in areas where Congress does not, from the Right to Repair for electronic products (SB 244) to data brokers (SB 362).
Capstone will continue to closely follow the myriad of underappreciated tech and telecom dynamics that will continue to have implications for both our corporate and investor clients.
---