August 4, 2023
By Charlotte Bucchioni, EU Energy Analyst
EXECUTIVE SU­­­­MMARY­­­
Capstone believes Germany's 26th July revision of its hydrogen strategy—most notably the softening stance toward blue hydrogen—provides significant tailwinds for US blue hydrogen producers, owing to a substantial focus on imports to meet the country's hydrogen ambitions.
Germany is seeking to expand reliance on hydrogen to cut greenhouse gas emissions, notably for highly polluting industrial sectors such as chemicals and materials.
Germany's hydrogen strategy—which sets guidelines for hydrogen production, transport infrastructure, and market plans—posits an increasing demand for hydrogen through 2030. Out of the demand projected (95-130 TWh annually), about 70%-78% will be met through imports, equivalent to around 2 million to 3 million tonnes annually. The initial hydrogen strategy published in 2020 focused on green hydrogen (derived from renewable sources). However, the revised strategy explicitly includes the use of blue hydrogen (produced with natural gas) while green hydrogen production ramps up.
Against this backdrop, we see upside for blue hydrogen producers looking to export to Germany and benefit from demand-side incentives such as climate protection contracts. These provide a payout to offtakers of green and low-carbon hydrogen (which includes blue hydrogen) based on the EU carbon price.
Background
In June 2020, the German government presented its first National Hydrogen Strategy. It set a target of 5 GW annual electrolyser capacity by 2030, corresponding to ~14 terawatt-hours (TWh). The strategy emphasised the role of imports to fill the gap between domestic annual green hydrogen production (14 TWh) and anticipated annual demand (90 TWh-110 TWh) in 2030.
Germany's current annual hydrogen use is ~55 TWh, or 1.8 million tonnes (Mt). It is the largest hydrogen user in the EU (22%), with 99% of its consumption composed of fossil-based hydrogen ('grey hydrogen').
To meet projected demand, the government doubled its electrolyser target to 10 GW in November 2021. The revised hydrogen strategy inscribes the new 10 GW target and provides additional detail on the role of low-carbon blue hydrogen within Germany's energy transition. Blue hydrogen is hydrogen made with fossil fuels, the emissions from which are captured through carbon capture and storage (CCS) technology.
Exhibit 1 – Timeline of Germany's Hydrogen Announcements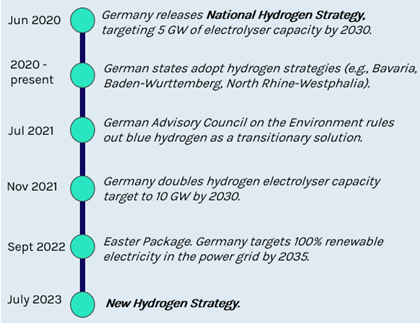 Role of Blue Hydrogen Further Defined
The role of blue hydrogen has been a contentious point in Germany. The 2020 hydrogen strategy only implicitly accepted low-carbon hydrogen through to 2030 to help kick-start the market, leaving substantial grey areas and no funding commitments.
The revised hydrogen strategy confirms the role of blue hydrogen in Germany's energy transition due to the current insufficiency of green hydrogen. Other low-carbon sources such as pyrolysis-based turquoise hydrogen and waste-based orange hydrogen will also play a role if they also meet a 70% greenhouse gas (GHG) emissions reduction threshold. The change in the government's stance comes as a result of pressure from Germany's trading partners, including Norway, which has said it will initially supply Germany with blue hydrogen (and not green).
As part of the strategy, the German government will also seek to define criteria around the storage and use of carbon dioxide (CO2) captured during the production of blue hydrogen. Currently, only criteria around green hydrogen production have been defined at the EU level, and the German government is expected to push the EU to come up with similar requirements for blue hydrogen (GHG emissions, transport, and CO2 storage).
Compared to EU, the UK has been more proactive in formulating blue hydrogen requirements. The Environment Agency published guidance on the production of blue hydrogen in February 2023. The guidance includes a requirement to ensure that 95% of CO2 is captured. It also includes requirements around energy efficiency and water supply and use.
We expect the German guidance to focus on the downstream use of CO2, such as ensuring the gas is ready to be used on-site, transported for use off-site, or permanently stored.
Import Needs Increase
As part of the revision, predicted hydrogen demand by 2030 has risen to 95-130 TWh (an increase of 40-75 TWh). Domestic production capacity is expected to cover 22%-30% of this demand (28 TWh), with the remainder (67-102 TWh) to be met by imports. This equates to about 2 million to 3 million tonnes of hydrogen imports annually.
According to the strategy, imports will be primarily of hydrogen derivatives like ammonia until at least 2030, after which imports of gaseous hydrogen via pipelines will play a bigger role. After 2030, we expect the government to favour a diversified mix of pipeline and maritime imports, with a higher focus on sustainable production. A separate import strategy is being developed by the German government and will be published later this year.
Incentives for Imports
The German government notes it will support imports of green and low-carbon hydrogen by covering the cost gap with conventional hydrogen in the short and medium term (likely until at least 2030). Several other incentives are being put in place, with more expected in the coming years.
One incentive being put in place this year is climate protection contracts. These provide a demand-side incentive whereby the government provides a payout based on the carbon savings made when switching to green or low-carbon hydrogen (imported hydrogen can be used to bid for the contract). The payout is based on the EU carbon pricing scheme—the EU Emissions Trading System (ETS)—and a contractually fixed strike price, and lasts for around 15 years. In practice, assuming a chemical producer using green hydrogen agrees on a climate protection contract with the government at a strike price of €120 per tonne of CO2, and assuming at the end of the year that the average annual EU carbon price is €90 per tonne, the chemical producer would be guaranteed that for each tonne of avoided CO2 from the project, the government would pay the difference, in this case €30 per tonne. If the carbon price was higher than the strike price though, the chemical producer would not receive any payment.
For green hydrogen, the German government will launch the €900 million H2Global programme this year, a double-auction mechanism where the government-owned Hydrogen Intermediary Network Company (HintCo) buys green hydrogen from international exporters on a ten-year hydrogen purchase agreements (HPAs) basis, after which the hydrogen is sold to EU customers, who will bid for shorter-term contracts via separate tenders. The first HPA auction is expected to take place this year, followed by the EU tenders for supply in 2024 and 2025. The H2Global mechanism will help with price discovery for green hydrogen and its derivatives. H2Global is not expected to include low-carbon hydrogen, but new import-focused initiatives that include it could be set up to ensure that the country meets its target.
---