August 7, 2023
By J.B. Ferguson, Global Head of Tech, Media, and Telecom Policy
From US-China tech tension and the crypto regulatory reckoning to emerging stories ripped straight from the pages of sci-fi novels, 2023 has featured several persistent and emerging tech policy storylines. For the balance of the year, we expect nothing less.
Coming into the year, Capstone expected pivotal action in the US-China Tech Cold War, a ramp-up in privacy enforcement and social media scrutiny, and more clarity on the crypto front. In the balance of 2023, we expect those themes to continue alongside a stronger dose of the weird, as novel technologies and national ambitions run headlong into an evolving yet unprepared global regulatory regime.
In a recent Q&A, Capstone's JB Ferguson, Capstone's global head of tech, media, and telecom policy (TMT), provides updates on what the rest of 2023 holds for tech policy and its unheralded implications for companies and investors.
Which of your expectations for the year in TMT have already played out?
Multilateral Export Controls: We became more positive early this year on the prospects for the US winning agreements from the Netherlands and Japan on additional semiconductor technology export controls, for the purposes of slowing technological advancement in the People's Republic of China (PRC). Those agreements, which happened this June and March, are not as strict as controls in the US, but they do meaningfully contribute to the US goal of undermining China's ability to produce crucial semiconductors.
Crypto: We anticipated the Securities and Exchange Commission (SEC) would finally launch an enforcement action against Coinbase (COIN) for being an unregistered securities exchange, and that a decision in SEC v. Ripple Labs had a meaningful (although less than 50%) chance of being a tailwind for the industry. Both things have transpired. The judge in Ripple Labs read the Howey test—which defines a security—in a way that lets secondary markets off the hook for trading in unregistered securities, which in turn takes much of the sting away from the SEC action against Coinbase. The SEC will appeal Ripple Labs, of course, but the decision boosts Coinbase's chances in litigation, gives other courts something to work with, and makes room for Congress to take on the issue (like the three bills recently out of committee in the House).
Biometric privacy: We expected a ramp-up in Biometric Information Privacy Act (BIPA) litigation and that certainly has happened. The combination of a private right of action and statutory damages is very dangerous for companies not paying attention. Eye-popping judgments like the $228 million finding against BNSF Railway (currently set aside pending jury trial) for biometric privacy violations and the Illinois Supreme Court's decision that each violation should be counted (rather than per-person) will continue to generate significant penalties.
What do you think was overlooked in the first half of this year that clients should be paying attention to?
SEC and other cybersecurity regs: The SEC recently adopted new rules on cybersecurity, creating new items for disclosure on Form 8-K to document material cyber incidents and requiring notification within four days of a determination of materiality. There are additional requirements related to policies, procedures, and board oversight. The New York Department of Financial Services has also tightened its regulations, with proposed additions for this year, including stricter multifactor authentication (MFA) and encryption standards.
We think the tailwinds for identity providers and cloud are underappreciated, as those requirements, and others from federal regulators to companies within their jurisdictions, will flow from large companies to smaller ones relatively quickly.
End of third-party cookies: Google's delayed plans to end third-party cookies (3PC) on Chrome are still underappreciated. The effects of Apple's changes to Intelligent Tracking Prevention (ITP) and clampdown on apps (App Tracking Transparency [ATT]) were masked by the giant demand pull-forward from COVID lockdowns. Apple has 32% of browser market share in the US and over 50% when considering mobile alone. 3PC deprecation in Chrome may have outsized effects for "open internet" adtech, and further shift ad dollar spending to walled gardens.
There is a race between collectors of first-party data in concert with third-party identity graphs and eventual deprecation. Open-internet audience addressability could decline significantly if first-party data is not aggressively collected and shared.
What underappreciated themes do you expect to play out this year in the sector?
AI-driven Job Loss: We are now past the first-wave hype cycle on generative AI, and the new technology has already claimed some victims like freelance copywriters and tutoring services, and every public company seems nearly required to mention it in their quarterly earnings call. We have not yet seen large-scale transformations of industries or companies, but there is every reason to believe those are coming.
Demand for the graphics processing units (GPUs) used to train AI models is infinite and shows no signs of slowdown, despite significant price hikes by Nvidia (NVDA). That suggests that many companies are training their own generative AIs (like Bloomberg-GPT) that could meaningfully reduce the need for labor.
Continued gains by labor: Despite the potential shellacking of service-industry labor demand by generative AI, labor may experience meaningful tailwinds from increasing unionization and the astronomical increase in manufacturing construction spending over the last year.
Unions have made meaningful gains in tech in the last year. The organization of game testers at ZeniMax (a Microsoft subsidiary) under the Communication Workers of America (CWA) is an example of the kind of action likely to chip away at large tech companies' ability to suppress labor costs and could catch on as everyday software developers find themselves threatened by code-generating AIs.
The CHIPS Act helped catalyze the biggest manufacturing construction spending wave in decades. We believe the downstream effects of that spending as manufacturing facilities come online should not be underestimated. Besides improved consumer purchasing power and the resulting growth in consumer products and services, we expect numerous investment opportunities in specialized B2B platforms supporting supply chain integration.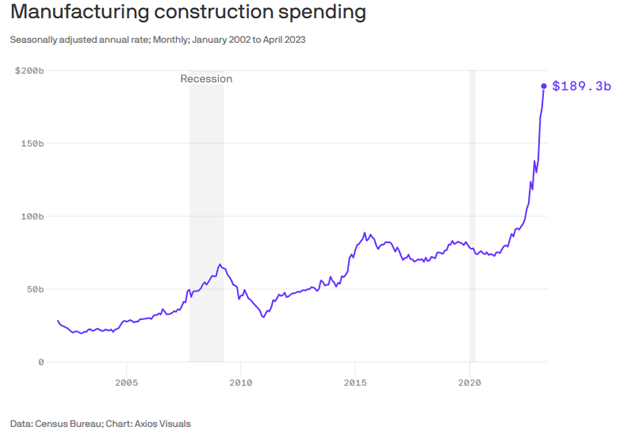 What are the big questions you are paying attention to for the balance of 2023?
China Tech Gap: US policy has shifted from an attempt to keep China ten years behind the leading edge to an absolute cap on process improvements on the most critical semiconductors. This has been augmented with similar approaches to technologies like generative AI, with the threat of significant export controls on GPUs. China's levers remain on raw material inputs for solar panels and batteries. We will be paying attention to any escalation in tensions, as well as technology developments that might allow the PRC to leapfrog those restrictions.
SCOTUS and tech: The US Supreme Court will likely take on several cases important for technology, privacy, and regulation in the next term. While the threats to Section 230 of the Communications Decency Act have grabbed the most headlines, we think any overturn of Chevron deference would significantly restrict agencies like the FTC, CFPB, and any new "digital" commission from enforcing the law. One such case, Loper Bright Enterprises v. Raimondo, will be heard in the October term.
The expanding frontier of the possible: The recent past has taken a decidedly sci-fi turn. Artificial general intelligence (AGI) is now a potential reality, members of Congress are publicly avoiding flat denials in response to questions about unidentified anomalous phenomena (UAPs), and a low-key band of Korean chemistry PhDs may have discovered room-temperature ambient-pressure (RTAP) superconductors (SCs), which could enable things like maglev trains, radically more-detailed MRIs, quantum computing, and rocketless space launches. The synthesis process for the new material is simple enough that it has been replicated by teams in China, Russia, and the US with commonly available laboratory equipment. We are closely following AI and RTAP SCs, as fundamental changes that could radically reorient the international balance of power, refocus US and state regulatory efforts, and reorder the investment landscape for companies and investors. As such, both will be touched by export controls, new legislation, as well as the agendas of most regulatory agencies here and abroad.
---