May 25, 2023 – Capstone believes managed care organizations (MCOs) will face both greater membership losses than they are anticipating and a worse acuity shift. The CBO estimates that of the 7.8 million people expected to shift to employer-sponsored insurance (ESI) from Medicaid, more than half previously had both Medicaid and ESI. The number of these "double covered" individuals has been hotly debated given the implications for MCOs, namely Centene Corp. (CNC) and Molina Healthcare Inc. (MOH).
Double-covered individuals have likely been largely unaware of their continued Medicaid coverage, instead relying on ESI. In this scenario, the MCOs have been getting paid by states to furnish little to no care. If there were an insignificant number of double-covered individuals, redeterminations should not be that unfavorable to MCO acuity. If, however, there were a significant number of double-covered individuals, as CBO suggests, MCOs are set to see both membership losses and a very unfavorable acuity shift. Because MCOs are paid a capitated rate per covered life, low-acuity enrollees (low utilizers of healthcare) produce significant margin for the MCOs. Meanwhile, high healthcare utilizers produce less margin.  
On Wednesday, May 24th, the Congressional Budget Office (CBO) released a report entitled "Health Insurance for People Younger Than Age 65: Expiration of Temporary Policies Projected to Reshuffle Coverage, 2023 to 2033." The report provides an updated projection of Medicaid disenrollment during the redetermination process, which launched in April 2023 and will finish by March 2024.
Medicaid Redetermination Transitions Expected by October 2024, millions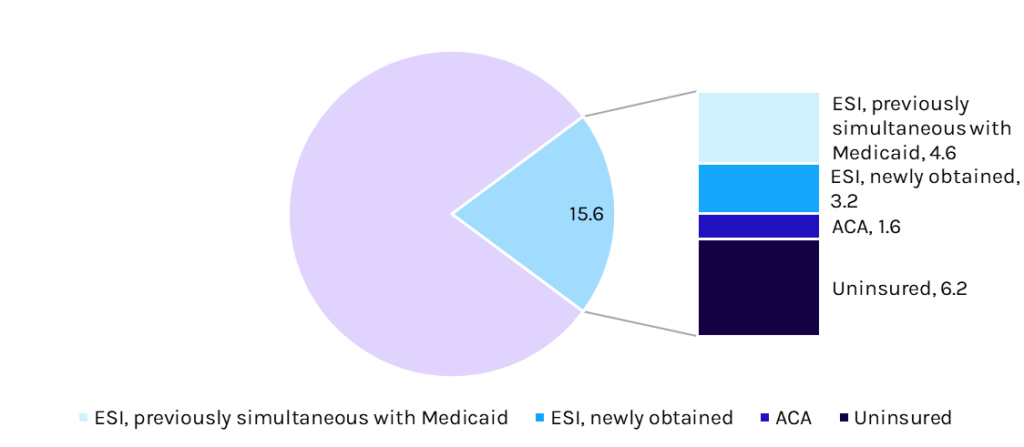 Source: CBO