By: Jack Dearing, energy analyst
September 24, 2022
Capstone believes the expansion of the Department of Energy's (DOE) Advanced Technology Vehicle Manufacturing (ATVM) loan program under the Inflation Reduction Act (IRA) will boost domestic clean vehicle manufacturing development, presenting opportunities for electric vehicle (EV) manufacturers and their suppliers.
Since its inception in 2008, the ATVM has dispersed only $11 billion, 44% of its original $25 billion loan authority. The IRA boosts this by about $40 billion, meaning that the remaining total loan authority stands at about $54 billion (see Exhibit 1).
We believe the DOE will ramp up its distribution of these loans to fund more investments in the EV supply chain, in line with its issuance of loans earlier this year—Syrah Technologies (SYR on the Australian Exchange) was given $102 million for the expansion of a graphite anode facility in Louisiana, while General Motors Co. (GM) received $2.5 billion to construct several Ultium lithium-ion battery factories. The new loans suggest a renewed interest in the Biden administration in using the ATVM program, which had been dormant for about a decade before this year.
Exhibit 1: Remaining ATVM Loan Authority and Previous Loans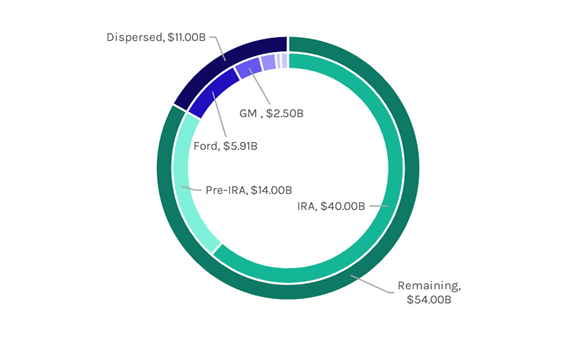 The ATVM loan program was established in Section 136 of the Energy Independence and Security Act of 2007 to support the production of fuel-efficient, advanced technology vehicles and qualifying components in the US. Instituted as part of efforts to revitalize the US automotive industry, ATVM loan guarantees may be used both to produce more efficient conventional vehicles and for alternative vehicle manufacturing, including EVs, materials, and charging infrastructure components. Though the ATVM's largest loan so far ($5.9 billion) was given to Ford Motor Co. (F) to retool existing plants for hybrid and fuel-efficient conventional vehicles, almost all of the remaining amount dispersed until now—about $5.1 billion—focused on electric vehicle manufacturing and its supply chain.
The most recent loans to Syrah and GM—the first loans issued under the program in over a decade—focused on two key elements of the EV supply chain: graphite anodes (a key element of lithium-ion batteries) and battery manufacturing (a growing industry given US automotive manufacturers plan to produce millions of EVs over the coming years). Notably, Ford intends to source its graphite anodes from the ATVM loan-funded Syrah facility, which is set to begin operations in 2023. Meanwhile, GM's Ultium battery factories, a joint venture with LG Chem Ltd. (051910 on the South Korea exchange), are intended to produce most of the lithium-ion batteries needed to pursue the company's full electrification by 2035 plan.
To be eligible for ATVM funding, a company must demonstrate that its project will either improve the efficiency of a light-duty vehicle by 25% or more, or that the project will produce an advanced vehicle (or a component part), such as an EV or a lithium-ion battery. Funding can be provided to any company meeting ATVM eligibility requirements, including startups—in 2010, the now-defunct Fisker Automotive and Tesla Inc. (TSLA) each received around $500 million. However, larger automakers are more likely to benefit from the program, as historically, the Department of Energy's Loan Programs Office (LPO), which administers the loans, has provided them to larger companies that can afford to take on significant debt and that have existing facilities. Ford, GM, and Nissan Motor Co. Ltd. (7201 on the Tokyo exchange) have each received over $1 billion from the program. In addition, the LPO must prioritize loans to refurbish or retool manufacturing facilities older than 20 years—a boon to legacy automakers like Ford, GM, and Stellantis N.V. (STLA) subsidiary Chrysler, which own several older factories across the US. Tesla's Fremont, California facility, a former Toyota-GM plant first built in 1962, received an ATVM loan in 2010 so that it could retool to enable it to produce EVs and EV batteries.
Although the ATVM program has been dormant for over a decade, the dispersal of two loans so far this year, as well as the increase in loan authority provided by the IRA and the overall extent of funding available, suggests that the LPO will administer loans under the program more frequently in the coming years. Furthermore, if a Republican administration were to come to power in 2024, there would likely be less emphasis on clean vehicle manufacturing. We believe this will spur the current LPO leadership to ramp up loan dispersal over the next two years given the Biden administration's goal of propelling the transition to EVs, even though full dispersal of the remaining $54 billion is unlikely.