May 24, 2023 – Capstone believes it is marginally likely that California will pass legislation to amend key provisions of the Costa-Hawkins Rental Housing Act of 1995 (Costa-Hawkins) by November 2023—negatively impacting the long-term operating performance of apartment real estate investment trusts (REITs) with portfolio concentration in the state.
If passed, Senate Bill (S.B.) 466 would amend key measures of Costa-Hawkins. Most notably, it would replace an exemption from local rent control for new constructions (built after 1995) with a rolling 28-year exemption—subjecting an additional 19% of California's rental units to local rent control.
Another key threat to landlords is the "Justice for Renters Act" state ballot initiative, which would repeal Costa-Hawkins altogether if it is included on the 2024 state ballot and approved by California voters. As has been the case in recent years, we believe that financial support from interest groups supporting renters will help the measure get enough signatures to be placed on the ballot. However, we believe it is unlikely that voters will approve the initiative and make it law.
We believe the tightening of state-level rent control in California would negatively impact the long-term operating performance of apartment REITs with portfolio exposure in the state by further exposing their portfolios to local rent control ordinances that could limit their ability to charge market rate rents or increase rents annually.
California Occupied Rental Housing Stock by Year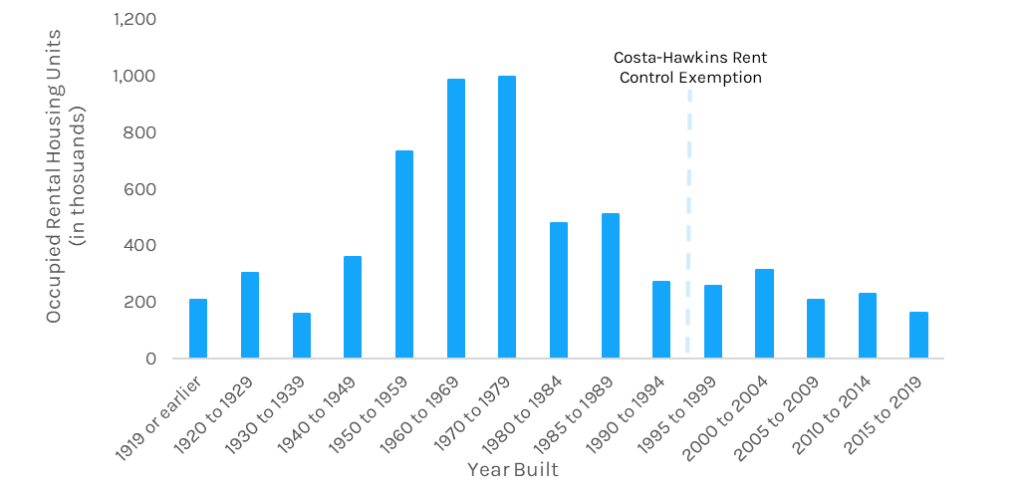 Source: US Census Bureau, Capstone Analysis